General Information
WSW-Gaskets are made of polyurethane elastomer which was developed especially for technical applications. It is particularly suitable for damping and sealing elements – above all for gaskets.
They are mainly used to seal bearings of various designs where they serve as dirt or dust barriers. In case the gaskets are oil impregnated they are completely self-lubricating and therefore provide life long maintenance free service. Furthermore, they are especially developed for all radial spherical plain bearings of DIN ISO 12240-1, series E. Special sizes are realisable according to customer requirements/customer designs, please contact WSW.
Properties
Because of the relatively large seal face (in contrast to the single "line" seal of O-rings) and their high strength gaskets of this material remain completely effective even under roughest conditions (e. g. tractors and construction machinery).
They are compressible up to 80 % and therefore allow very large oscillating movements such as those found in radial spherical plain bearings.
When using WSW-gaskets as a seal it is possible to enlarge the tolerances considerably since their compressibility will ensure effective sealing.
The facile deformation enables a rapid and unproblematic assembly even in the most difficult cases.
The low compression set guarantees a long operational life even under high deformation frequencies which is further enhanced by its resistance to oils and greases.
Temperature: -30 °C – +80 °C temporary also +100 °C.
Assembly, design and construction of WSW-Gaskets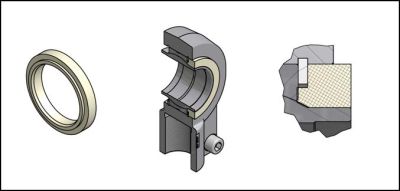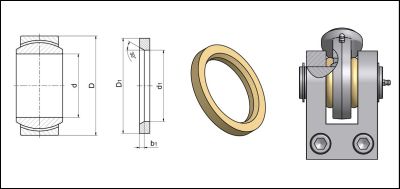 Their installation is as simple as of round cord or O-ring gaskets. The dimensions required are as follows:
The gaskets should be subject to a pre-loading of 10 % more than the maximum deflection of the moving part. Therefore, the diameter of the seal for shafts should be 5 % smaller than the shaft diameter and the outside dimensions should be 5 % larger than the gasket groove.
The max. static pre-loading is approximately 30-35 %, a compression set of 6-10 % has to be expected.
Due to the elasticity of the material the diameter tolerance, the mismatch of the shaft diameter and the grooves may be relatively large.
However, the surface roughness on parts to be sealed should not exceed 0,005mm at the tight joint.
Please note: Impregnation of the gaskets with grease will reduce the friction loss by approximately 50 %.